Buffham Searcher - JLB
1805 Olive Street, Fresno California c1907
Jay Lee with girls (sisters?)
JAY LEE BUFFHAM
---
Jay Lee Buffham's whereabouts was unknown to me until a year before his death. Unfortunately I never met him. I did meet his last wife (June Snow) and through her eyes I discovered my mother's father and the sort of man he was.
My mother's father never had any other children and so he was never a father nor a grandfather in the true sense, and his last wife said that he would have been so happy to have known us, and shared in our lives.
"Jay was a very intelligent, intellectual man, always studying, and reading, he had an amazing memory, very gifted with words," and enjoyed the pleasures of outdoors.
Jay Married June Verdell Snow on September 13, 1933 when she was 15 years old, and he was 34! She may have been his fourth "wife" and that's an interesting aspect of Jay's personality.
Jay Lee Buffham was born in Rio Vardie River, Arizona November 25, 1899.



Military records show that he was enlisted into the U.S. Army October 16, 1916 at Vancouver Barracks, Washington and assigned to Company D, 13th Infantry, Fort Mills, Manilla, Philippine Islands, and was there from January 1 to July 15, 1917. He had the above image struck February 11, 1917 with his friend. He stood 5'5" and had lied about his age, then he got a slight case of ptomaine poisoning, was sent home and discharged August 14, 1917 at Fort McDowell, California, for "fraudulent enlistment."


It didn't take him long to head for Canada and Camp Fort Edward, Nova Scotia, where he joined the Canadian Army. This image above was taken June 30, 1918. The uniform is general service issue. He became part of the Canadian Expeditionary Force which was comprised mostly of men who had volunteered, these "Canadians" were ordered to spearhead the last campaigns of the War from the Battle of Amiens on August 8, 1918, which ended in a tacit victory for the Allies when the armistice was signed on November 11, 1918.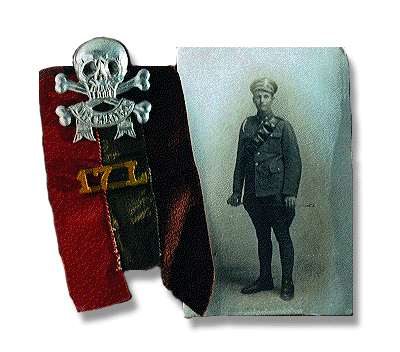 Hat and collar insignia on his "Through Blood, From Green Fields, to the Mud Beyond."
In three or four months he was assigned to the British Forces as part of the 17th Lancers (The Duke of Cambridge's Own) September 15, 1918. Most likely the Service Corps by the shoulder braid.

By late 1918 he was in the Tank Corps.
The Royal Tank Regiment (RTR) is an armoured regiment of the British Army. It was formerly known as the Tank Corps and the Royal Tank Corps. It is part of the Royal Armoured Corps and is made up of two operational regiments, the 1st Royal Tank Regiment (1RTR) and the 2nd Royal Tank Regiment (2RTR). The official regimental motto is Fear Naught while unofficial motto (signified also by the colours of the tactical recognition flash) is "From Mud, Through Blood to the Green Fields Beyond."
After the Battle of Amiens, (fought between 8 and 11 August 1918 which marked the beginning of the British advance that culminated in the Armistice of 11 November 1918.) He went to Russia to assist the "White Russians"(Those who fought against the Soviet RED ARMY in the RUSSIAN CIVIL WAR - 1918-1921) in operating the British tanks.


By 1919 Jay went to Worgret Camp, Wareham, England. He was Acting Sgt. number 31 4561 with three medals.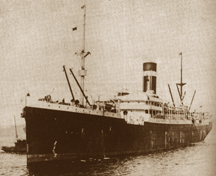 From there he sailed home on the SS Saturnia October 11, 1919.
(all this military information has yet to be substantiated with documentation. More research is being done)
---

More later......