The Story of California Joe
With the popularity of Truman Head's media sharp shooting fame,
Colonel H. Berdan makes hay

His Civil War
by Floyd D. P. Øydegaard
The newspapers stated that Truman Head was born in Philadelphia (actually Otsego, New York; the newspapers had it wrong, as usual), about 1820, (Truman lied about his age when he joined the 1st USSS), and after falling in love with a fair damsel and being "forced" to never see her again, (by her father!), Truman headed for California to find his fortune in the gold that flowed in every stream. He was very lucky in making a few good claims and donated $50,000 of it to The Philadelphia Old Soldiers Home (so the newspapers stated). He was "farsighted" enough to be the first one of Company C to purchase a Sharps Rifle. His exploits and his aim became legendary with that Sharps. The Union needed heroes and they made fantastic articles and his image would be etched in every weekly publication. However he was discharged do to his actual age, although they said he was having trouble with his eyes (must have seen him with specticles, something one avoided in the 19th century! Also being over 40 was a sure sign that one had to be a little senile).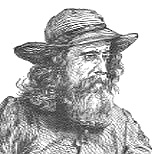 The Muster records for Truman Head state; Age 42 years, height 5 feet 7 inches with light complexion, L.B. eyes D.B. hair, born in Otsego, N.Y. with occupation as Hunter. He enlisted Sept. 14, 1861 at Washington DC by C.H. Hosmer (2Lt.), for 3 years and was discharged Nov. 3, 1862.

On Aug. 26, 1861 he was on "Company Muster-in Roll" at Detroit, Mich. as private, in Capt. Duesler's Co., Berdan's Sharp Shooters. Next "outstanding" entry states; Sept & Oct 1862 Absent Sick, Clifburn(sic) Hosp. Washington, Due him $14.00 from 2 Auditous(?) roll.
Cliffburne USA General Hospital at District of Columbia verifies his presence.

Co. C Muster Roll shows date of Dec 31, 1862 with remarks that he has been "Dischgd Nov 3/62." The final notation has these notes; Truman Head, Priv., Co. C. 1 Reg't U.S.S.Shooters, age 42 years, (never aged a day?) Appears on Co. Muster-out Roll, dated W Petersburg VA, Aug 20, 1864 with last paid to Nov 3, 1863. Remarks state "Dischg'd Nov 3/63 Washington D.C. by order Gen Martindale. Dischg'd on Surg. Cent of Dis Nov 4/62. See off...." here it was torn and lost.
The last bit of information was his discharge paper; "Army of The United States Certificate of Disability For Discharge. Private Truman Head of Lieut Jas. H. Baker Company "C" of the 1st Regiment of United States Sharpshooters was enlisted by Capt Duesler of the 1st Regiment of U.S.S.S. at New York City on the 4th day of September 1861, to serve 3 years; he was born in Otsego Co. in the state of New York is 52 years of age, (lied about ten years!), 5 feet 7 inches high, Light complexion, blue eyes, brown hair, and by occupation when enlisted a Hunter.
"During the last two months the soldier has been unfit for duty at Cliffburne Genl' Hospital October 3, 1862 Surgeon U.S. Vols in charge. I certify, that I have carefully examined the said Truman Head of Lieut Baker's Company, and find him incapable of performing the duties of a soldier because of 'Senility and Impaired Vision.' Discharged this fourth day of November 1862, at Washington D.C. by Henry Bryans, Surgeon U.S. Vols in charge."



NOTE: This Is not the same California Joe that rode as a scout for General Custer during the Indian Wars. Although they have similar characteristics, Custer's man was Moses Milner. Unlike Truman, Moses was a story teller.





Page created by


&copy 1984-2010 Shadows of the Past, Inc.
Want to see my Old West Reenactors Web Site? Touch Shadows of the Past, Inc.



Click to see our Columbia Bookstore WebSite


Pages created by